Partners – In this section
---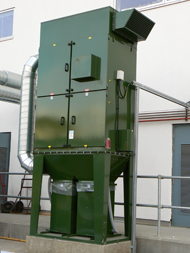 UK & Europe Design, Manufacture & Installation from
www.newgateair.co.uk
Industrial Fume Extraction & Dust Collection
Newgate Air Systems combine design innovation with quality engineering to create efficient and cost effective fume and dust extraction systems for every industry.
We are based in the north east of England and operate across the UK and throughout Europe. NAS would like to thank our friends at www.wet-design.co.uk for inviting us onto their website.
Many industrial and laboratory processes create fume and dust particles that are either toxic or environmentally damaging. These waste products must be monitored and dealt with correctly in order to satisfy environmental and Health & Safety legislation. Newgate Air Systems has an impeccable track record in designing and installing fume & dust extraction systems that incorporates the latest air quality measuring equipment. This allows our clients to meet – and to prove they meet – all H&S requirements.
Newgate Air Systems clients come from every industrial sector. We work with small & medium sized local businesses as well as market-leading national and international companies. Every ventilation and extraction system is individually designed and built to purpose.
Examples of recent projects included:
Zone 1 ATEX installations
Weld fume extractions
Lead burning extraction
Vehicle exhaust fume extraction
Wood waste dust extract systems
Gas appliance flue dilution extraction
General fume extraction.
Newgate Air Systems work with our clients to ensure minimum disruption to their businesses during the installation process.
Ventilation and fume & dust extraction units are often fitted over weekends or during industrial down-times.
Combined Fume Extraction & Multipoint Clean Air Systems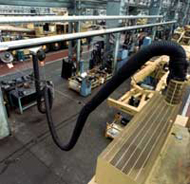 Newgate Air Systems has developed a great deal of experience and expertise in combined extraction techniques. Many industrial manufacturing methods produce a mixture of toxic fumes, gases, particles or other pollutants, each of which must be disposed of separately. Newgate Air Systems enjoys the challenge of developing multi-layer extraction techniques that are efficient, cost effective and built to last.
NAS are regularly required to create multi point extraction systems. Multipoint fume & dust extraction systems are effective for conveyor belt-type production units, or we can use flexible matrix extraction units that follows the source of fume production.
Cost Effective Fume & Dust Extraction Solutions
While it is possible to offer generic fume and dust extractions equipment, experience tells us that tailored ventilation systems are far more effective in the short term and cheaper to run in the longer term.
At Newgate Air Systems, a safe, clean and efficient working environment is our priority. NAS is registered with the Contractors Health & Safety Assessment Scheme (CHAS) and all our installation teams carry Health & Safety Passports & Skillcards. Meeting Health & Safety requirements is not just a legal requirement but it also makes good business sense.
We are always happy to talk to new or existing customers about their projects, plans and requirements.
Further information on our services and products is available at www.newgateair.co.uk.
Newgate Air Systems UK Ltd
Unit 1 Marine House
Norman Terrace
Willington Quay
Wallsend
Tyne and Wear
NE28 6SU
Phone: 0191 262 3015
Fax: 0191 234 2885
E-mail: enquiries@newgateair.co.uk
Fume Extraction, Dust Extraction & Collection Systems. Welding Fume & Woodworking Dust Extraction & Collection, Spray Boot Extraction & Ventilation, Air Cleaning Systems, Fume Hoods and Cupboards, Combined Fume & Oil Mist Extraction, Heating, Ventilation & Air Conditioning Systems, Paint Spray Booths, Exhaust and Filtration, Forge Fume Extraction, Quench Tank Extraction
Newcastle | London | Glasgow | Bristol | Edinburgh | Liverpool | Manchester | Leeds | Birmingham | York | Bradford | Sheffield | Leicester | Coventry | Wolverhampton | Stoke | Derby | Nottingham | Norwich | Ipswich | Chelmsford | Cambridge | Southend | Brentwood | Basildon | Portsmouth | Exeter | Oxford | Chelmsford | Swansea | Cardiff | Luton | Chester | Preston | Southport | North West | North East | Midlands | Sunderland | Hull | Northampton | Norwich | Ipswich | Colchester | Margate | Ashford | Canterbury | Maidstone | Eastbourne | Brighton | Southampton | Reading | Oxford | Luton | Stoke | Plymouth | Preston | Wirral | Middlesbrough | Carlisle | Perth | Sterling | Aberdeen | Dundee | Inverness | Ayr
Swimming & Therapy Pool Design, Water Treatment & Maintenance